I am super excited about this event!
With 31 presentations containing relevant evidence and practical advice from the experts, The Essential Oils Revolution will help you use essential oils effectively and confidently. This event is the first-ever, online, brand-generic event to include experts from every field, including aromatherapy, direct sales, medicine and research.
Unfortunately, people all over the world are scrambling to find solutions to their health problems–it's up to you to do your homework.
Fortunately, essential oils are currently the hottest trend toward regaining control of your health!
The Essential Oils Revolution begins on Monday, May 11.
Click here to register for free!
Just look what the jam-packed first day looks like: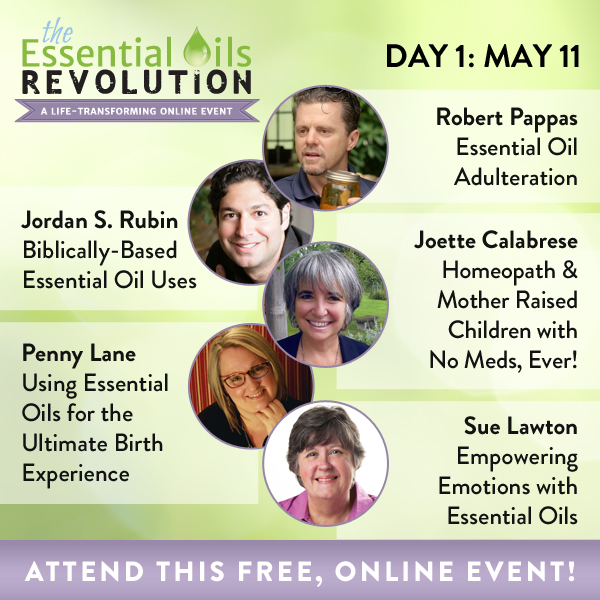 Essential oils are truly God's Medicine. They can be life-transforming. In the words of a recent NBC clip, "Move over yoga and gluten-free diets. Essential oils are now the hottest trend!" Tens of thousands are using essential oils for the FIRST TIME every day.
This event will provide relevant evidence and practical advice from the experts to help you use essential oils effectively.
CLICK THE LINK BELOW TO REGISTER NOW!
Just for signing up for the event, you will receive access to two of the interviews.  One with Josh Axe, which is an awesome interview on gut health, thyroid and adrenals.  This interview is right up my alley and Dr. Axe gives some excellent advice.
The other interview is with Robert Pappas on Essential Oil Adulteration.  He has some great advice about how to know if your Essential Oil is pure or not.
You will also receive complimentary copies of:
The King's Medicine Cabinet Essential Oils Guide eBook by Dr. Josh Axe
The Essential Homestead: Using Essential Oils in the Home, Barnyard and Beyond eBook by Jill Winger
Using God's Medicine For The Abundant Life eBook by Dr. Eric L. Zielinski
It's not too late to learn how to use essential oils to regain your health…especially if you get started by saving your seat at next week's Essential Oils Revolution.
I will be there.  Won't you join me?