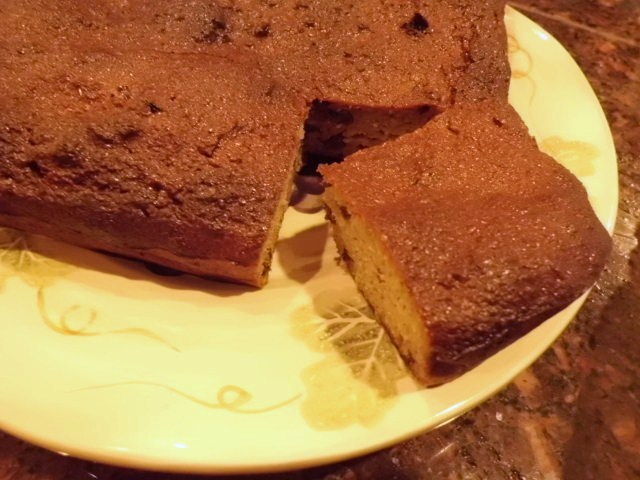 I have been on the GAPS diet
for just over a year, and my daughter has been on the Specific-Carbohydrate diet
for just under a year.  Our family was having an open house for her college graduation, and I had to plan a few treats for our guests that both of us could eat.  One of our favorites, was my twist on a recipe in the GAPS cookbook, Internal Bliss
.  I hope you enjoy this savory, warming, comfort food that tingles on your tongue.
Tongue-Tingling Spice Cake
2 ½ cups        Sunflower seeds, soaked for 2 hours and wet
2 Tbsp            Coconut Oil
, melted
1/3 cup           Raw Honey
, softened
4                     Pastured eggs
1 tsp               Sea Salt

1 tsp               Cinnamon

½ tsp              Cloves

½ tsp              Nutmeg

½ tsp              Pure vanilla extract

½ cup             Raisins or raisin/apple mix
Preheat the oven to 350 degrees F.  Puree wet sunflower seeds in food processor until smooth.  Add all ingredients except the raisins.  Blend well.  Remove blade from food processor and fold in raisins or raisin/apple mix.  Pour into greased 8×8 baking dish.  Bake at 350 degrees F for 40 – 45 minutes.  Test for doneness with knife or toothpick inserted in the center.  If it comes out clean, it's done.  Cool on rack.  Makes approximately 25 servings.
I hope you enjoy it as much as we do in our household!
Shared on Homestead Barn Hop, Monday Mania, Fat Tuesday, Traditional Tuesdays, Whole Foods Wednesday, Real Food Wednesday, GAPS Legal Thursdays, Simple Lives Thursday, Fight Back Friday and Fill Those Jars Friday.
This was a featured post on Fill Those Jars Friday.