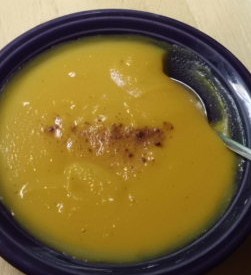 I love fresh tarragon and can't seem to get enough of it!  Since I'll be going on the GAPS Intro diet next week, I wanted to make a creamed soup with tarragon that I could eat either hot or cold.  This is it!  I could eat this all day, and it is super easy to make!!!
For those of you on the GAPS Intro diet, this is a stage two recipe.  To make it a stage one recipe, remove the ghee, tarragon and cinnamon.
Butternut Squash Soup with Tarragon
1 Tbsp             Ghee
¼ cup              Chopped yellow onions
½ tsp               Fresh tarragon or 5 to 6 leaves
Pinch               Salt
1/3 cup            Chicken stock
1 cup               Butternut Squash, precooked
Soften onions in ghee on medium heat until translucent.  Stir in whole tarragon leaves, salt, squash and stock.  Cook for 5 or 10 minutes on medium.  Blend well with immersion blender.  Serve hot or cold with a dash of cinnamon.  Delish!  Serves 1 or 2.
This recipe is so versatile, too!  You could caramelize the onions with honey and/or add a dollop of GAPS-legal yogurt or sour cream.
I always precook my squash and freeze it in jars.  Here's the recipe I use from Nourishing Traditions:
"Cut squash in half, remove seeds, and set cut side down in a buttered glass baking pan with about 1/2 inch of water.  Bake at 350 degrees until tender, about 1 hour."
I hope you enjoy it as much as I do!
Shared on Fat Tuesday, Traditional Tuesdays, Real Food Wednesday, This Is Real Thursday, Simple Lives Thursday, Fight Back Friday and Monday Mania.