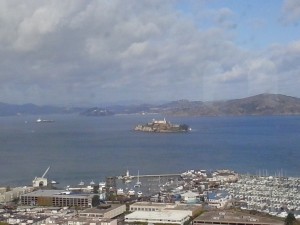 Wow! I can't believe it has been so long since I've blogged. If you follow me on Facebook, you know I'm still alive. 😀
Here's What I've Been Doing



We took a trip to Northern California to visit family and do the touristy thing in San Francisco. We all had a great time!
I made applesauce and cider from about 50 lbs of the 100 lbs of apples I picked in the fall.  The rest of them are in cold storage and I plan on making more applesauce very soon.
My husband built me 6 more garden boxes for next year's garden.  I filled two of them with dirt and compost and planted one with garlic.  The other 4 are still waiting for dirt and compost which I will do very soon.  I'll be sure to write up a post with pictures for you before spring.
We moved our chickens a little further from the house to cut down on the bugs and fly population in the house.  They are doing well, and I will probably add a couple of new ones to the flock this spring because their winter egg production is too low.  I'm also considering raising some meat birds this spring.
I'm still on the full GAPS diet, mostly.  

 I'm struggling with eating frozen food from Costco for lunch because making my own food takes time and life is busy.  I need to get back to making my own food again.  <sigh>  Only eating food that I make or that I know exactly what is in it is a brand new mindset for me.  It will take some time to really make serious changes.  We purchase the frozen food for my husband's lunches, and I know I need to come up with some lunches that he can eat, and that I can eat, that are not prepackaged.  Because it's not real food, right?  

Lastly, I have been studying my FDN course and hope to do the midterm very soon.  This course may lead to me helping people with lots of different problems including adrenal fatigue, or as we at FDN call it, adrenal dysfunction.  I will be writing about it more in the new year, so stay tuned!
Thank you to all of you who have supported me this year.  It means so much to me and my family that you don't even know us and yet you give to our household.  I would like to wish you all a very Merry Christmas, Happy Holidays and many blessings in the New Year!