Let's say you don't have access to fresh organic parsley, so you purchase a big beautiful bunch at your local farmer's market or grocery store only to find that before you can use it all up it has turned into green mush at the bottom of your vegetable bin.  There must be a way you can have a consistent supply of fresh parsley!  Well, read on, friend.   I will show you how to keep it fresh for longer, and it will make a pretty little addition to your kitchen window.
On the same day you bring your bunch of parsley home, wash it well, remove any yellowing or dead leaves, and lay it out on some paper towels. Place a couple layers of paper towels on top and press down slightly to dab up the water. You may need to do this step several times.  There is no need to get it completely dry; mostly dry works fine.
Gather up your dry parsley and put it back into a bunch with the stems almost even with each other. Using a very sharp pair of scissors, cut the ends of the stems about 1/4 to 1/2 inch and place it in a jar with fresh, cool water. Make sure the leaves do not touch the water.  It will look something like this: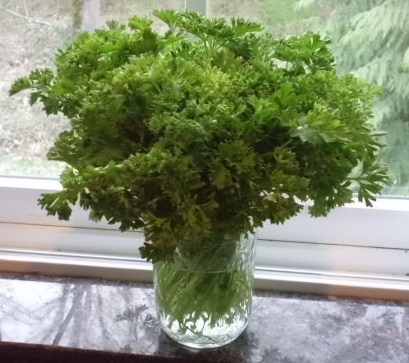 To make your bunch of parsley look like a potted plant, place the jar in a pretty pot and showcase it in your kitchen window.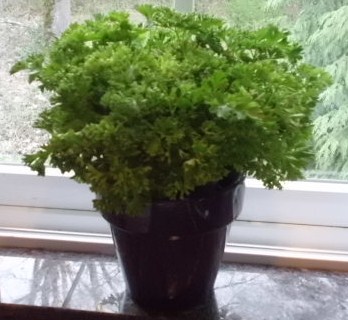 In order to keep it as fresh as possible, keep it out of direct sunlight and in a cool place. If the temperature in your home is above 70 degrees, you could place your new "potted" plant on a shelf in your refrigerator to keep it green even longer. Replace the water with fresh, cool water every few days, removing any yellow or dead leaves and trim the stems again.  Add these trimmings and yellow leaves to your compost.  This should keep your cut parsley fresh for a few weeks, saving you a few pennies or another trip to the store or farmer's market.
If you don't have one already, I encourage you to purchase seeds to grow your own parsley or purchase an organic plant to add to your deck.  Enjoy!