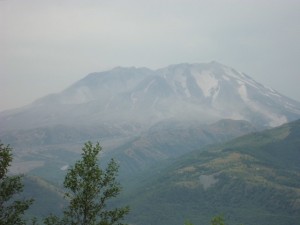 But I didn't.  🙂  It was a tough 3rd week.  On Saturday, I went on a long motorcycle ride with my husband, his brother and sister-in-law to Mt. St. Helen's.  I took GAPS Intro food for lunch, but ate a Full GAPS breakfast at the restaurant with everyone else.  The ride was lots of fun, but long and tiring.  I had to take several days off to recover which why this post is so late.
My husband and I also celebrated our 29th anniversary.  Woot!  I tried to be strong and not ask to go out to eat, but by mid-morning realized I really needed a date night with my dear husband.  We decided to visit our favorite Mexican food restaurant.  Again, I ate a Full GAPS meal, but it was not Intro food.
I could have quit, but decided to start over instead.
In the GAPS book
, Dr. Natasha Campbell-McBride says, "[Y]ou can move through this programme as fast or as slow as the symptoms will permit."  Since I had previously done Stages 1 and 2, this time I spent two days on Stage 1 and just a few days on Stage 2.  There were no symptoms, so I moved on to Stage 3.  And I've decided the more restrictive stages of this diet will never be a problem again.  Practice makes perfect!
Why do GAPS Intro in August?

I chose to do the GAPS Introduction diet in the month of August for a few reasons.  First, there was only one big day of celebrating, our anniversary, and I thought we could wait to celebrate until after I had completed the diet.  (Nice try!)  Second, I was antsy to get started and didn't want to wait until October, which is the next good month without big celebrations.  You see, I wanted to plan around big celebrations like birthdays, anniversaries, and holidays so I wouldn't have to worry about food as much.  And, thirdly, I was so looking forward to more healing to take place.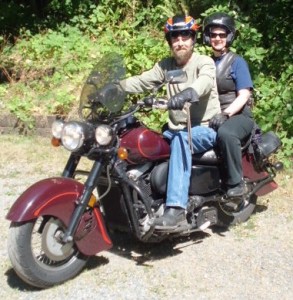 What I wasn't prepared for was how nice the weather would be and how often I would be out on the motorcycle with my husband.  I tried to take GAPS Intro food with me as much as I could, but sometimes fell "off the wagon."   I always made sure to have a GAPS meal, though.
Where I Am Now

I'm still on Stage 3.  It is finally getting easier to make a meal the whole family can enjoy together.  We are eating meatballs prepared with onion, garlic and fresh herbs simmered in broth and served with butternut squash, and last night I prepared a ground beef casserole with simmered onions, garlic, fresh garden peas and fresh thyme.  It was pretty good!  The only thing I'm really missing is cheese!!!!
My cravings are under control, and I am preparing to move on to Stage 4.  I can tolerate eggs so breakfasts are much easier and yummy again!  I don't think I'm doing so well tolerating avocado.  I am prone to constipation, and avocado is supposed to make that symptom worse so I'll try it again next week.
How I Am Feeling
I am not feeling quite as well as I was last week, but still improving overall.  Some of my "die-off" symptoms this week are more Fibromyalgia pain and stiffness.  I also noticed I get Fibromyalgia symptoms with increased activity, and I was doing too much because I was feeling better.  Now I know I need to continue to take it slow.
My sinuses are still clear.  My strength is continuing to slowly getting better, and my sleep has improved.  My ears no longer ring as much and do not get plugged as often.  Lastly, my digestion has begun to get much better!
So I'm not going to quit, and hope this post encourages you to keep on moving toward healing!
Previous GAPS posts you may have missed:
Are you encouraged by reading my posts about my GAPS Intro journey?  Are you on the GAPS Intro diet?  If so, do you have any encouraging words to share?  I'd love to hear from you!