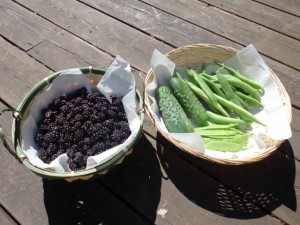 I'm sorry my GAPS update is so late, but life has been a little crazy around here.  Besides doing the Intro diet, I've been harvesting vegetables, foraging for wild blackberries, pickling cucumbers, working on tearing out the rest of my flowerbed downstairs to add a couple more garden boxes for the winter garden and catching up with friends from out of town.  Thanks for your patience!
The last two weeks on the GAPS Intro diet have been going fairly well with one hiccup a week ago Tuesday evening. I had a severe, but short, case of diarrhea.  I am not quite sure what caused it, but it cleared rather quickly, and I have been fine since.
Gallbladder Pain
Unfortunately, I have not been digesting the extra fats very well and my gallbladder was starting to hurt a little.  I knew it was my gallbladder because I had the same pain under my right lower rib last November and went to see one of the gastroenterologist's where I worked.  She confirmed it was my gallbladder.  We had it checked for gallstones, and the tests all came back clear.
A couple weeks before I saw the gastroenterologist, I stumbled upon the article Bitters: Invaluable Aid to Fat Digestion by Sarah of The Healthy Home Economist.  A couple of days after the doctor appointment, I picked up some Swedish Bitters
at my local health food store.  It worked within hours.  I took some for a few days and stopped after the problem disappeared.
So last week when my gallbladder started to bother me, I took the bitters
in my cupboard.  At first I thought the bitters were the reason for the digestive problems, but the following day I took a smaller dose and experienced no side effects.  Dr. Campbell-McBride recommends taking ox bile for gallbladder pain, but I didn't have any on hand.
Since then I have been reading that bitters
are helpful for Fibromyalgia pain so I think I'm going to take some when I have a flare and see if it helps.
Adding Foods
One of the first things I decided to add to my diet for Stage 4 was a little olive oil.  I did not experience any side effects and slowly increased the amount to a couple of teaspoons over time.  It looks like olive oil agrees with me so far.  Yay!
Next I decided to start juicing.  I started with zucchini, beans and sugar snap pea pods for sweetness. Since I do not have a no-pulp juicer, I had to strain it so the juice would be free of pulp which is not allowed at this stage.  I used a flour sack towel which I picked up at my local Fred Meyer store in the kitchen section.  After straining, I added a little water to dilute it.  It was not too bad, but I'm really looking forward to adding something sweet!  I did not seem to have any problems or symptoms at this time.
The second time I juiced some zucchini and beans, I forgot to strain it.  Oh dear, my tummy let me know that was not a good plan!  The third time I decided to try a small amount of carrot from my garden for some sweetness.  It was very good, and I'm going to keep taking it in small amounts.  I talk in my last GAPS post about foods high in oxalate possibly causing Fibromyalgia pain.  Raw carrots are very high in oxalate, but Dr. Campbell-McBride recommends them for juicing so I'm going to try them and monitor for pain.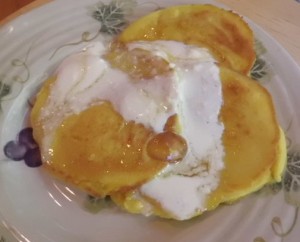 I also tried a teaspoon of raw coconut flour
in the Butternut Squash Pancakes I made last week and noticed no side effects.  Oh, they were so yummy!
Old Habits
Last week I harvested several small zucchinis from my garden, chopped them up and added them to the chicken soup I was making for dinner.  I also added a small handful of tender green beans and lots of onions and let it simmer for about 20 minutes.  Right after I ate it my tummy began to tell me something was wrong.  It grumbled for a few hours before it finally calmed down.  There were no other symptoms, and I had no idea what it was because I had eaten all of these ingredients previously with no problems.
The following evening I had some more zucchini in a soup and the same thing happened!  "What is wrong?" I thought.  Then it dawned on me.  I forgot to peel the zucchini!  Duh!!!  Sigh….  I peeled them the first time I ate them and just forgot.
Just to make sure I was able to tolerate them, I ate them again last night, peeled this time, and there were no issues.  Whew!
So don't be surprised if you don't remember everything you have to do on this crazy diet!  😉  It's a huge learning curve.  You'll probably be just like me and find that old habits die hard.  Just keep moving forward and only back up to the previous stage if you experience lots of digestive troubles or if you fall off the diet for any reason.  Then move through the stages fairly quickly until you are back to where you were.
Healing
Ah, the healing.  It has been a roller coaster ride, again.  I thought I got off that thing! 

  But I can finally say there are more up days than down days.  That is an encouraging sign!
I seem to be sleeping a lot more these days which is good for me and have been getting tired much earlier in the evening than I used to.  That is a good thing because I used to be a major night owl.  I have known for years that the earlier a person goes to bed the better sleep they get, but I have never been able to actually accomplish this practice.
I still have some pain and stiffness, but it seems to finally be easing.
My constipation is gone for now and I've stopped the coffee enemas.  Yay!  They were very time consuming, but necessary.
My energy levels are improving and my sinuses continue to be clear.  I'm still having intermittent ringing of the ears, but it has improved and my right ear only gets plugged a couple times a week.  My NUCCA chiropractor says adjusting the atlas should help to open the Eustachian tube.  A NUCCA chiropractor is a special chiropractor who only adjusts the bone at the top of the spine.  This bone is called the atlas and when it is out of adjustment the rest of the body does not function optimally.  So far the adjustments seem to be working for my ear, and I've only seen him three times!
In addition to more energy, my stamina continues to improve.  I don't need as much rest between tasks and am able to make food for myself and my family.  Just in time, too, because I'm out of broth and extra food I had prepared prior to starting the Intro diet.
What's Coming Up
I'm going to be making some bread.  Yes, I said it!  BREAD!  There is a basic bread recipe in the recipe section of the GAPS book, but it uses ground almonds.  Because I'm following a low-oxalate diet, I will be using raw coconut flour
instead.  I am sooooo looking forward to trying this.  My mouth is watering!  I hope I can take it slow to begin with.  hehe  😉
I pray this post is encouraging to you!  Don't forget to sign up to win a copy of the ebook "What Can I Eat Now?"!  It's my first giveaway and there are only a couple days left!  Giveaway is now over.
Previous GAPS posts you may have missed:
Are you on the GAPS Intro diet?  If so, what stage are you on?  Are you healing?  If so, how?  I'd love to hear from you!
Shared on Fight Back Friday, Fill Those Jars Friday and Monday Mania.