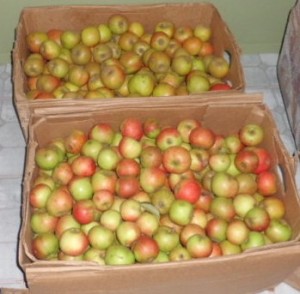 In the middle of week 9 of the GAPS Intro diet, I moved on to stage 5. The first food I introduced was two teaspoons of stewed apple mashed with ghee. It was yummy and tasted a little like apple pie without the spices. I did not experience any symptoms. Yay!
The following day I took three teaspoons and still had no symptoms, so I'm guessing I'm okay with applesauce.  That is good news because last Thursday my daughter and I picked 100 lbs of unsprayed apples.  I think I'll be busy for awhile!
Next I tried some soft lettuce. It did not agree with me at all, and I was bleeding by morning.  🙁  I will wait a week and will try to introduce the soft parts of peeled zucchini instead of lettuce.  I think my home-grown lettuce might be too fibrous which is why my reaction was so severe.
I was able to increase my juicing to a full cup once a day.  I'm using cabbage, zucchini and broccoli stalks and hope to increase my intake to a full cup twice a day.
I forgot to share in my last post that I have been able to tolerate fermented cod liver oil
.  I started off with a small amount with no issues and slowly increased the amount until I was able to consume at least 1/2 teaspoon.  This week I was able to tolerate a full teaspoonful.  I'm so glad because I find being on fermented cod liver oil
really helps me feel better overall.
At the beginning of week 10 was when life happened.  We had to go on an quick, emergency business trip. I was able to plan food for breakfast and lunch, but we were going to be on the road both evenings which meant we would have to eat out for dinner.  I had discovered in the past that one of the best restaurants to find a full GAPS meal was Mexican food, minus the chips and tortillas.
I didn't really have much of a choice.  I either was going to go hungry or break my Intro diet protocol.  Well, I didn't want to go hungry, so I chose a yummy dish of shrimp and vegetables.  I told the waitress to keep the tortillas.  It was delicious!
Surprisingly, the following day there were no major digestive symptoms.  The same went for the following day.  It seemed as though my system was holding its own.
The other surprising thing to me, was that I did not experience digestive problems from the stress of the trip.  I usually experience at least some kind of digestive distress.  🙂
When we returned home, I immediately had some broth and my digestion stayed steady.  I started right back where I left off instead of going back to stage 1 and going through all the stages again.  Yay!
I don't want to say I'm healed until I'm done with all the stages, but the fact that my body seemed to hold after being thrown some bad food says a lot.
I will be trying raw vegetables again during the beginning of week 11.  If it goes well, I will move on to stage 6.  It looks like the end is in sight, and I have seen much improvement!
If you are new to The Urban Hearth, here are my previous GAPS posts.
Are you on the GAPS diet?  Have you experienced some healing?  I'd love to hear from you!
This post contains affiliate links.