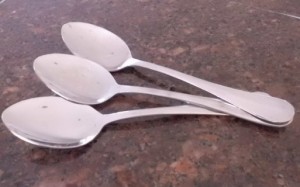 Oh, that's right, I'm on the GAPS Intro diet, which myself and others lovingly call the Soup Diet.  I'm also low on bowls, too, even though I try to use them at least twice before I put them in the dishwasher.  😉
It has been a very interesting week, to say the least.  My learning curve went way up because I have very little experience making soup.  My family doesn't care much for soup or stew so I've only made it a few times in 20+ years.  But I learned rather quickly how easy making soup can be!  Soften some onions in ghee, toss in some broth, meat, vegetables and herbs, bring to a brief boil, and simmer for an hour or so.  It's even easier if everything is already prepped!
How the Week Went
I started the diet on Thursday, August 2nd and only had a few symptoms.  I ate soup and broth all day long and was almost never hungry.  Adding lots of good fats to the soup/broth is the key to not being hungry, and I made sure to eat lots of healthy fats, especially coconut oil.
The symptoms I experienced were fatigue, some left arm pain, restless sleep, and occasional heart palpitations which are benign.  Occasionally my right ear was plugged, but it didn't bother me unless I burped.  Oh, and occasional burping after eating.  I'm not sure if the burping was a "die-off" symptom or a food sensitivity.  Hopefully, I'll figure that out soon.  Towards the end of the week, my ribs started to bother me a little, but it was bearable and might be from all the sitting and resting I've been doing this week.
I expected the fatigue because I was eliminating coffee and wine.  The wine helps me relax at night and sleep well.  I know that's completely different from what the doctors say to do, but they don't know my body.  It is the only thing I have found to work for me, so I've been doing it for several years.  But I want to try to stop because I believe it is also contributing to my health problems, specifically my nervous system.
When the left arm pain hit in the evening of my first day, I put a pain patch on it.  I got these pain patches
from my acupuncturist who also specializes in Chinese Medicine, and they work great for the arm pain I've experienced off and on for about a year.  The pain was gone within a half hour, and I'm pretty sure it was a "die-off" symptom because I have not had major elbow pain for months.  I took the patch off in the morning because it was spent.
I'm really struggling to stay off coffee.  I did not have any for the first two days and was dragging something awful.  On Saturday, my husband was home and made coffee.  It smelled wonderful!  The night before he told me he wanted to go on a motorcycle ride because the weather was supposed to be fantastic.  Well, I had been home alone during the day all week because our daughter is at camp, and I did not want to be home alone all day again but didn't know how I would have the energy to ride on the back of the motorcycle.  I caved and had a few sips of coffee.  🙁  It was a tough decision, but we had a good time together.  The sacrifice was totally worth it, but I'm back to drinking a cup every morning to help give me a jump start.  I'm hoping that doesn't last long.
The fatigue plagued me all week and is the main reason why this post is so late.  I had hoped to have it done by last Thursday or Friday since I started the diet on a Thursday, but I was so tired it was all I could do to take care of myself.  I hope to get the next one done in a more timely manner.  🙂
On page 143 of the GAPS book
, Dr. Campbell-McBride recommends if your condition is not severe you can move through the Intro diet "as fast or as slow as the symptoms will permit:  for example you may move through the First Stage in one or two days and then spend longer on the second stage."  My condition is no longer severe, so I took her advice and moved out of stage one on the second day.  I was craving ghee and needed fresh herbs in my soups.
The good news is that I lost 5 pounds!  I lost 25 pounds last year on Full GAPS, gained 5 pounds back and then plateaued.  So it was a nice feeling when I noticed my clothes were a little looser.  Yay!  I also noticed my sinuses are more clear, and I no longer have to wear nose strips
so I can sleep.
My Digestive System
I did experience some constipation and bloating for the first three days.  It did not concern me until the morning of day three.  I read a comprehensive article about how often a person needs to eliminate.  It states a person should eliminate anywhere from every other day to once or twice a day.  Quite a difference, but there are many, many different theories regarding this subject.  I always take into account what I ate the day before.  If I did not eat as much as normal and do not have my regular BM, I am not alarmed.  Since I was eating lots of very digestible foods I thought it would take a couple days to move.  But I did not want to go another day without one, so I read up about it in the GAPS book.
This is covered quite extensively along with diarrhea on pages 147-148 in the revised edition.  Dr. Campbell-McBride notes that constipation can be helped with fermented vegetable juice and diarrhea treated by eating fermented dairy.  She also makes mention that constipation can also be cleared up with high-fat dairy such as sour cream, ghee and butter.  This is also another reason why I moved from Stage 1 to Stage 2 rather quickly and my constipation finally improved on day 4 with only one or two more skipped days the rest of the week.  The bloating is still there, but not bothering me.  I also experience an occasional abdominal pain which most people would ignore because it's so mild, but I did make a note of it in my journal.
Moving On
I'm going to stay on Stage 2 for a few more days before I move to Stage 3, where I will stay until I'm able to get rid  of all my bad habits and symptoms.  This pause should also give me more food variety while I wait for my body to heal.  If needed, I might back up to Stage 2 for a few days to increase healing before moving on to Stage 4.
My energy is slowly returning, and I hope to be back to normal pretty soon.  I'm currently using the e-book "What Can I Eat Now?" by Cara of Health, Home and Happiness to help get me through this part of the diet.  It is an easy-to-use handbook that gives helpful reminders of what to do for each day and suggestions about what food to add.  It also includes recipes and suggestions for each meal per day and every stage lasts 5 days.
Are you on the GAPS diet?  How are you doing?  Does the GAPS diet sound overwhelming to you?  I'd love to hear from you.  Please leave me a comment below.
Some of my links are affiliate links and help support this blog.  Your privacy is important to me, and I do not sell email addresses.
Shared on Real Food Wednesday, Simple Lives Thursday and Fight Back Friday.