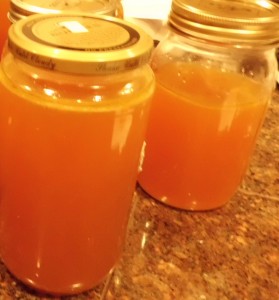 About a year ago, I was browsing Facebook and a dear friend, whose opinion I hold in high regard, posted an article about a book, Gut and Psychology Syndrome
by Natasha Campbell-McBride, MD.  Another friend, whose opinion I also respect, commented about how much she wanted to start this diet because of her many allergies.
I was intrigued because I had just discovered that I had several food allergies.  My health has not been good since college when I caught Epstein Barr virus, which manifested as Mononucleosis and evolved into Chronic Fatigue Syndrome.
After this, my immune system was never the same.
Every winter I caught several colds and had chronic sinus infections which, I mistakenly thought, required round after round of antibiotics.  Little did I know I was continuing to ruin my immune system and just got sicker and sicker.
To make a long story short, I left the traditional medical community for a more natural approach and eventually saw a naturopath who suggested food allergy testing.  After the test, I took all the foods I was allergic to out of my diet, but still didn't really notice much difference.  It was at this time when my friend posted the GAPS article.
After reading the article, I was sold and immediately purchased the book.  I had been searching and praying for my health for many years.  This just had to work!  When the book arrived, I devoured it.
This is what I learned:
The GAPS diet is a temporary healing protocol that heals the gut lining and populates it with beneficial bacteria thereby restoring proper digestion.  There are two diets involved:  intro and full.  The intro diet is rather strict at the beginning, but improves as you move through the steps and introduce new foods, one at a time, back into your diet.  Eventually, you transition into the full GAPS diet and stay on this diet until you have had normal digestion for at least 6 months to be certain that your gut lining is completely healed.  Some people start with full GAPS to get used to cooking and eating this way before starting the more restrictive intro diet.
The lining of the digestive tract is covered with all kinds of bacteria.  In fact, we have about one to two pounds of bacteria in our digestive tract alone.  These bacteria are categorized into three categories: beneficial (good), opportunistic (bad) and transitional (usually neutral).
In a healthy gut, the beneficial bacteria keep the opportunistic and transitional bacteria in check.  If there aren't enough beneficial bacteria lining the gut, the opportunistic and transitional bacteria take over and can cause chaos because of the imbalance.
Beneficial bacteria also neutralize all the bad bugs that we consume.  Again, if their supply is not strong enough, those toxins take over, and we get sick.
We also have cells called enterocytes in our small intestines.  I like to call them rock stars because they have hair that stands on end like a rock star.  There are enzymes distributed throughout their hair that work with the beneficial bacteria to continue the digestion process and absorb nutrients for the blood system.  Like I said, they rock!
Lining the gut are these finger-like structures called villi.  The rock stars are born at the base of the villi and mature as they travel up the sides until they reach the top and fly away to rock star heaven.  If the rock stars travel too slowly or die too quickly, the villi degenerate leading to disease.
If you are more interested in how this works or if you are at all like me and need a visual, check out this explanation on about.com.
Healing With GAPS
I decided to start with the full GAPS diet for a few reasons.  First, I wanted to get used to the diet before doing intro.  Second, I was concerned it might be too difficult to handle the intro diet while I was working.  Third, my current naturopath, a GAPS practitioner, suggested it.
One of the first things I did was sign up for cooking classes, which helped tremendously.  Because processed foods are not allowed on this diet, I had to learn how to cook with clean food from scratch.  In order to minimize consuming toxins, I found meat that was pasture-raised on organic grass, wild-caught seafood, eggs from pastured, soy-free chickens and organic vegetables.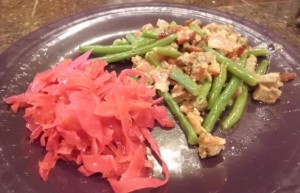 Through the cooking class, Reversing Food Allergies, I learned how to make my own yogurt, broth, beet kvass, sauerkraut, milk kefir, kombucha, and much more.  I also purchased the book Nourishing Traditions: The Cookbook that Challenges Politically Correct Nutrition and the Diet Dictocrats (Love that title!) by Sally Fallon and learned more about eating, preparing and cooking in a traditional fashion and why this is good for us.
A month or two after I started, my health began to improve.  Eventually, my immune system showed signs of strengthening: I only caught one minor cold in the fall and none in the winter. My sinuses cleared for the first time in years, and blood tests came back proving that the diet was working.   But I was still experiencing this overall pain, especially after a hard day of work.  I was concerned that maybe I had Rheumatoid Arthritis or Fibromyalgia.
A visit to a rheumatologist confirmed that it was Fibromyalgia.  I was very discouraged because I thought this diet was supposed to help with Fibromyalgia.  After more praying and researching, it hit me.  I was healing, just not as fast as I wanted.   I also recalled reading somewhere that some people who follow the GAPS diet do not experience full healing for two or three years.  I had still a long way to go and needed to be patient.
I continued to read about Fibromyalgia and discovered one of the key ways of coping with the pain was to lower my stress level.  Unfortunately, my job was extremely stressful, but because I was working to pay our daughter's college bill, I could not quit until spring when she graduated.
As soon as I could, I gave my notice and came home to heal.  And heal I did!  Quitting my job was just the ticket, and now I have a lot more energy: energy to garden, buy and care for chickens, start this blog and prepare nutritious meals for my family.
I can run up the stairs without knee pain or feeling winded and no longer have to rest after each cleaning or cooking task.  I can stand in my kitchen for several hours without having to sit down and still have energy at the end of the day to clean up after dinner.  The vertigo, headaches, intermittent diarrhea, hemorrhoids, fatigue, weakness, rib pain and a myriad of other symptoms are gone. I literally feel 10 years younger!
One delightful side benefit that I did not expect was weight loss.  I didn't even think about it until one day I noticed my pants were getting loose and immediately weighed myself.  I had lost 10 pounds without even trying.  Altogether, I lost 25 pounds and went from a size 16 to size 12!
The overall body pain is almost gone.  I'm only taking two natural pain killers instead of four, Saventaro Cat's Claw
and Nettle/Quercetin (Nettle for the Epstein Barr virus and Quercetin for pain).  I sometimes still wake up stiff and in a bit of pain, but when I get out of bed and walk around it goes away.
What's Next?
Because I am not completely healed I'm going to do the GAPS Intro diet to see if it gives me another healing boost. If you would like to follow my progress, I will be blogging about it, so please sign up in the column to the right for email updates (I don't sell or share email addresses) or follow me on Facebook.
Are you interested in finding out more about the GAPS diet?  Here are a few resources to help get you started or give support:
GAPSdiet.com and GAPS.me are both excellent resources for learning about the diet and for support.
Wardeh at GNOWFGLINS has started a GAPS series.  Many different subjects on the GAPS diet are covered including a guest post by yours truly about taking "Baby Steps to GAPS."  I share how it took me several months to implement the Full GAPS diet into my life without stress.
When I do the intro diet I will be using "What Can I Eat Now?" an ebook by Cara at Health, Home and Happiness and the GAPS Guide (Simple Steps to Heal Bowels, Body and Brain)
by Baden Lashkov.
Do you have health issues?  Does the GAPS diet intrigue you?  If you are on the GAPS diet, what health problems did you have?  I'd love to hear from you!
This post is shared on Fat Tuesday, Whole Foods Wednesday, Real Food Wednesday, Simple Lives Thursday, Fight Back Friday, Monday Mania and Healthy 2Day Wednesday.
This was a featured post on Sunday Snippets.