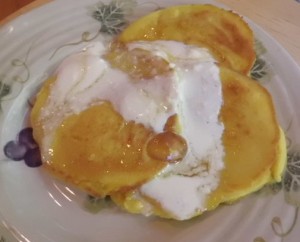 Oh my goodness!  I just made these for breakfast this morning, and they were so delicious I just had to share them with you.
If you have read my previous posts you know I am doing the GAPS Introduction diet to try to heal from Fibromyalgia and Chronic Fatigue Syndrome.  I am currently on stage 4, and it is time to introduce coconut flour.
In the GAPS book
, Dr. Natasha Campbell-McBride recommends making pancakes with squash, eggs and organic nut butter.  I decided to use coconut flour instead of nut butter.  They turned out really well and are super easy to prepare.  I hope you enjoy this recipe as much as I did.
Butternut Squash Pancakes
1/4 cup    Butternut Squash, precooked
1              Egg, organic and pastured
1 tsp        Raw Coconut Flour
Serves one.  Preheat a 12-inch cast iron skillet
on medium heat and add at least 2 tablespoons of healthy fat.  I used ghee.  Mix ingredients well with an immersion blender
.  Test skillet with a sprinkle of water.  If it is hot enough the water will sizzle.  Pour 3 dollar-sized shapes into skillet.  After about 5 minutes, peek at the underside of the pancake to see if the edges are golden brown.  If they are, carefully turn it over.  Be patient.  This is the hard part.  Cook until both sides are golden brown.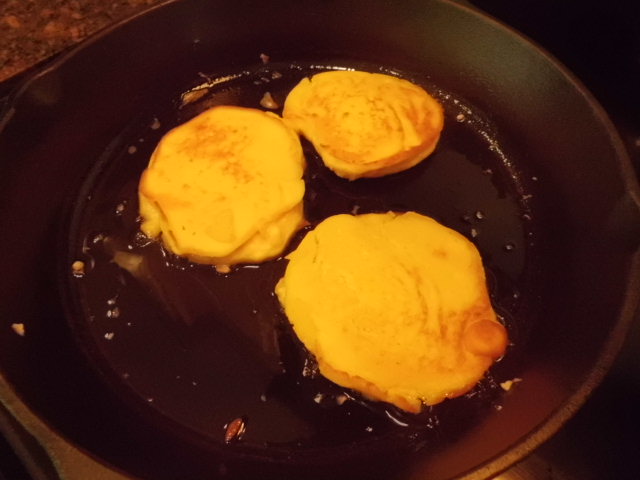 Carefully remove them from the pan, and pour all the fat in the pan over the pancakes.  Add a pinch of salt, if desired, and top with your favorite toppings.  I put a dollop of homemade sour cream and honey on mine.
The outside is slightly crunchy and the inside is soft and moist.  Yum!  Enjoy!
Some of my links are affiliate links and help support this blog.  Your privacy is important to me, and I do not sell email addresses.
Shared on Monday Mania, Fat Tuesday, Real Food Wednesday, Simple Lives Thursday, Keep It Real Thursday, Homestead Barn Hop, Morristribe's Homesteader Blog Carnival, Traditional Tuesdays, Frugal Tuesday Tip, Domestically Divine Tuesday, Hearth and Soul Hop, Tasteful Tuesdays, Gluten-Free Wednesdays, Frugal Ways Sustainable Days, Whole Foods Wednesday, Homemaking Link-Up!, Healthy 2Day Wednesday, Pennywise Platter Thursday, Full Plate Thursday, Keep it Real Thursday, Fight Back Friday, Little House in the Suburbs, Fill Those Jars Friday and Scratch Cookin' Tuesday.
This was a featured post on Sunday Snippets.